DIY
Do It Yourself Pergola, Fence & Gazebo Packages
Now available for 2013, Vinyl and Wood Pergolas, Vinyl & Aluminum Fencing kits that you can install yourself. If you have the skill and the free time to tackle the project yourself its fun and easy.
For Vinyl and Aluminum Fence Projects please contact us to setup an appointment. There are too many styles to post plus we need to take onsite measurements to know how much fencing you require!
Vinyl Pergola Kit (below)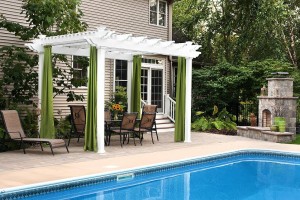 For Wooden & Vinyl Pergolas
1) Pick a style from our deck and pergola gallery or even one from the Internet. The picture above is one of the many vinyl pergolas we can supply and install for you.
2) Determine the desired size of the structure.
3) We do all of the hard work, i.e. Picking out the wood, cutting and
shaping and we'll deliver it your doorstep with instructions for you
to assemble.
4) If you find it too difficult to tackle call us and we can install for you.
(Below 13′ Diameter Vinyl Gazebo Kit)
BOOK A CONSULTATION
Feel free to call and make an appointment for a free quote or consultation. We look forward to serving you!